DR CABOT CLEANSE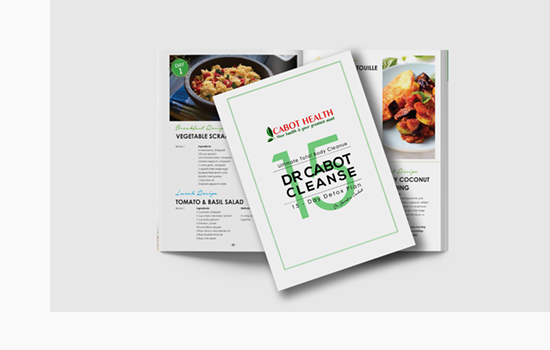 The Dr Cabot Cleanse is a 15-day detox plan that will help you regain control of your health.
The program was designed by Dr Sandra Cabot and her medical team to restore gut and liver health and reduce inflammation and acidity in the body. This detox program improves the health of your cells and strengthens the immune system.
No cleanse program would ever be complete without a healthy meal plan to go with it. Dr Sandra Cabot and her team of nutritionists and naturopaths have worked together to create 15 days' worth of tasty, cleansing recipes to complement the cleanse powders. Dr Cabot believes that optimal health starts with what you eat and has created this food plan for maximum cleansing.
In your Dr Cabot Cleanse box, you will find a 48-page colour print booklet with 15 days' worth of delicious breakfast, lunch and dinner recipes for you to enjoy.
FOR MORE INFORMATION & DELICIOUS, HEALTHY DETOX RECIPES VISIT
www.drcabotcleanse.com

ULTIMATE LIVER CLEANSE
(Best taken around breakfast time)
The Ultimate Liver Cleanse powder is a comprehensive formulation, combining potent antioxidants, high quality superfoods, herbs, greens, vitamins and minerals. It is very high in protein, containing 60% protein by weight. The protein comes from superior Golden Pea protein and is suitable for vegans. This powder contains over 40 key ingredients to support liver and immune health and to increase energy.
KEY BENEFITS
Detoxifying
Supports the detoxification pathways of the liver to improve the breakdown and elimination of toxins from the body.
Immune boosting
Combines potent sources of vitamin C, Kakadu plum and the enzymes bromelain and papain designed to reduce inflammation.
Protein
Contains easily absorbed protein and the active form of folic (folinic) acid. Doubles up as an excellent protein shake for your daily routine.
ULTIMATE BODY CLEANSE
(Best taken around lunch time)
The Ultimate Body Cleanse powder is a potent combination of alkalinising greens and minerals. It has been designed to reduce acidity and optimise the pH (acid-base balance) in the body.
KEY BENEFITS
Reduce acidity​
Contains chlorophyll-rich chlorella powder to reduce acidity and detoxify the body.
Anti-inflammatory​
The ingredients reduce acidity in the body which reduces inflammation.
Cell health​
The ingredients help to protect the cells against damage. Unhealthy cells thrive in an acid environment, which increases their risk of mutation into dangerous types of cells.
ULTIMATE GUT CLEANSE
(Best taken 1/2 hour before or 2 hours after dinner time)
The Ultimate Gut Cleanse powder is a superior gut powder, combining nourishing and healing amino acids, fibres and a live probiotic. This formula was designed to repair and strengthen the gut and improve gut bacteria.
KEY BENEFITS
Cleansing
Contains the probiotic Saccharomyces Boulardii, which fights pathogenic bacteria and candida, and rebalances gut flora. Absorbs heavy metals and toxins from the gut for removal in the faeces.
Soothing
Designed to reduce inflammation in the gut by providing a protective mucilage. Helps to reduce heartburn.
Repairing​ ​
Contains glutamine which is vital for repairing gut damage and restoring normal intestinal permeability. Reduces leaky gut. Glutamine is the major fuel source for the intestinal cells and restores gut integrity and promotes healing.
Improved absorption​ ​
​Designed to improve digestion and nutrient absorption. A damaged and/or inflamed gut will not absorb nutrients, even if you have a healthy diet.
(32255)
| | |
| --- | --- |
| SKU | 32255 |
| Barcode # | 9326664001520 |
| Brand | Cabot Health |
| Shipping Weight | 0.8850kg |
| Shipping Width | 0.090m |
| Shipping Height | 0.155m |
| Shipping Length | 0.270m |
| Shipping Cubic | 0.003767000m3 |
| Unit Of Measure | Each |
Dt Cabot Cleanse

By:

Wendy Weidinger

on 6 February 2022

I purchased a kit for both myself and my husband. We both found it very helpful to get us back on track with our eating. I would definitely recommend it to others just as I had it recommended to me. Thank you.




(5)
All products and appointments

By:

Lyn Spotswood

on 17 December 2021

Hi. I have been using Dr. Cabot's products and services now for at least 20 + years and I am very happy. I have had some personal consultations with Dr Cabot over the years and have always been very happy with Dr.Cabot's advice. I used Dr.Cabot's cleanse before I decide to lose some weight, and I am very pleased with my result The Vanilla Synd-X High Protein 1kg powder is also great. And as an after thought, I must have all of Dr.Cabot's books and if I sometimes end up with two the same, it's not hard to give one away. Thank You Dr.Cabot and all your staff Kind Regards Lyn Spotswood Merry Christmas to you all.




(5)
15 day cleanse

By:

Julie McKenzie

on 10 December 2021

I did the 15 day cleanse in about February 2021 and I found I slept better, felt better I myself and lost about 3kgs. After Christmas will do another cleanse. My sleeping pattern was the most obvious for me.




(5)
15 Day Cleanse

By:

Sarah Edmondson

on 10 December 2021

I am a 44 year old female. I have used this cleanse many times as I have an autoimmune disease and I get quite concerned about what the medications that I am taking are doing to my insides. This cleanse is the only thing I have found in over 10 years that works for me. It has been the only way I have been able to shed some kilos and it sorts out my bloating. This last time that I did the cleanse in October, I decided to do it for a week longer and it proved to be really good for me. Usually I have found the weight I had lost can creep back on, but this time I have found this not to be the case. I have continued to strictly stick to the maintenance powders in the morning and evening but I haven't been super strict with my eating, even indulging in sweets for my birthday over several days. I have told so many people about this cleanse because it really works! You will not go hungry either as Dr Cabot is always generous with the serving sizes. I can't thank you enough for developing this product, it has been amazing for me.




(5)
15 detox cleanse

By:

Debbie yell

on 10 December 2021

I have received my 15 cleanse in mail was so quickly delivered I am just on my second day of the 15 day cleanse so far I am feeling so good I can already feel things changing early days but feeling very confident will rate back at end of the 15 days




(5)
Amazing Cleanse

By:

Jean

on 9 December 2021

The recipes were great…. as we only have one grocery store we couldn't get all the ingredients but the set regime was so filling we didn't have room for snacks. We felt absolutely amazing when we finished so we are continuing with a lot of the plan as we have lost 7 kilos already. Thankyou




(5)
Wonderful Kickstart

By:

Alexandra Triantafylidis

on 25 November 2021

I felt positive and motivated knowing that I was beginning my proactive journey to help heal my body. I felt re-energized throughout the process.




(5)
Cleanse

By:

Julie McKenzie

on 17 March 2021

I did the 15 day cleanse and lost 1 1/2kgs and I really felt good while on cleanse.




(5)
Benefits of Dr Cabot Cleanse

By:

Elizabeth Howe

on 16 March 2021

To be honest I embarked on this cleanse with a slightly sceptical attitude thinking the body is quite efficient at cleansing itself. However I wanted to lose ~3kgs I'd put on during winter & during Covid-19 lockdown & whilst I regarded myself as conscientious about my health when it came to food I do suffer from arthritis (bilateral knee joint replacements & knobbly painful finger joints) & wanted to reduce or totally avoid foods which may contribute to inflammation. And there were other reasons....felt my brain a little foggy at times & when last assessed my cholesterol was slightly above the healthy range. And I confess when I saw the Cleanse advertised at half price I pounced. And I'm so glad I did. Admittedly I suffered the first perhaps 3-4 days. Constant headache, felt tired, legs felt "nervy" when I went to bed & I did wonder one day whether or not I had the strength for my Pilates class. But I did it. And I eventually began to feel better. No joint stiffness when getting out of bed & my chronic hamstring tendonopathy was far less noticeable. I completed the 15 days with ease, lost ~4kgs, felt so much healthier & my scepticism completely resolved! My cholesterol is also back to a healthy level. I plan to do this cleanse perhaps twice/year (at least) & I frequently use the cleanse recipes which I mostly really enjoyed. I have also been extolling the virtues of the cleanse to my friends. Thank you to Dr Sandra Cabot & her team.




(5)
Great Product

By:

Wendy Rose

on 11 March 2021

I was feeling sluggish, heavy, too full and uncomfortable so I tried this package . After 3 weeks of taking the cleansers and following the suggested eating plan, I felt so much better - light and satisfied. I now use it regularly and highly recommend it.




(5)
Cabot's detox

By:

Linda Collier

on 25 February 2021

I purchased 3 lots of these detox's. All 3 were inconsistent. Did not last for 15 days despite my accurate measurements. In fact they lasted between 9-12 days. I was in a lot of pain towards the end, like flu symptoms but without having the flu.




(3)



Cabot Health Response
Hi Linda, Thank you for reaching out - we are sorry to hear that you are disappointed with the products you received. There should have been 15 days supply in each - the manufacturer did advise that over time the product can settle and become more 'dense' so it's good to shake the product to ensure that the scoops have the correct amount of product in them, but we would like to rectify this situation for you. We haven't heard of anyone getting flu symptoms from doing the Cleanse, this is not an expected reaction - if you would like to send an email to our sales team we would love to help you further. The email is sales@cabothealth.com.au.
Thank you

By:

Samantha

on 12 October 2020

Hi Dr Sandra Cabot My husband and I just finished doing your 15 day liver cleans. We did it for better general health and the biggest change that I noticed was clarity of mind. I don't have the brain fog when I wake up in the mornings. Thankyou for all the work that you do. I love your books and especially your podcasts. Keep up the good work!




(5)
I have had a fantastic result from the Dr Cabot's

By:

Jim

on 21 January 2020

I was hoping for a good result but WOW it exceeded all my expectations. I stuck strictly to the plan and within a week I noticed that 1. My Sinus had cleared up and I no longer needed to take medication. 2. I no longer felt bloated and sluggish 3. My mood had improved 4. I had lost 2kg In addition to this, by the end of the program 1. I had lost 5kg 2. I was getting a good night's sleep 3. I was thinking clearer and 4. I felt totally reenergised The meal plan was simple to follow and the meals were delicious and quick to prepare. I particularly liked the soups.




(5)
I am on it now.

By:

Anne L

on 7 November 2019

Thought it was just powders but the recipe book is brilliant. Very easy and healthy. Easiest way of cutting out dairy carbs and sugar. Too much food! I realise my body has been starved of proper nutrients with missing meals. Day 7!




(5)
Love !

By:

Patsy P

on 7 August 2019

The recipes are amazing on this 15 Day Detox!




(5)
We Also Recommend
Others Also Bought
More From This Category